By: Adam Cook

Now that the NBA Playoffs have begun it is time to look at some of the best values and worst values of this past season. I looked at the pre-ranks and the end-season ranks in per game averages and picked an "All-Star" squad and an "All-Dud" squad. PR = Pre-Rank according to Yahoo and SR = Season Rank according to Yahoo. The rankings were based off standard 9-category Yahoo ranks.
"All-Star Squad"
PG – Stephen Curry – Golden State Warriors (PR = 25, SR = 4)
Curry's ankles are more famous than fantasy basketball itself. Curry was coming off ankle surgery before the season and thus was very discounted in drafts. It is very rare for a player taken in the third round of most drafts to end up as a top 5 overall player. He set the record for 3 pointers made in a season this year and can single handedly carry your team in the 3-PT category. (In case you've been living under a rock and have missed out on watching Steph Curry this year you have to see his amazing highlights here and here and here) One thing is for sure, Steph Curry should go in the top 6 picks next year!
SG – Kawhi Leonard – San Antonio Spurs (PR = 139, SR = 24)
There is no other nickname for Leonard than Mr. Steady. Leonard is the most underrated player in the fantasy game today, mainly because he doesn't stand out in one specific category. He did a little bit of everything this year with averages of 11.9 PPG, 6.0 RPG, 1.7 SPG, and 1.1 3PG. Where Leonard also excels is the percentages. .495 FG% and a .825 FT % will help you greatly in those categories. Kawhi will be underrated again next year because of his unpopularity, but don't let that fool you! Top 8 SG/SF option next year.
SF – Chandler Parsons – Houston Rockets (PR=182, SR = 34)
Parsons was on many sleeper lists to start the season and he rewarded his believers. After emerging as a legitimate fantasy threat in the last 30 games of the 2011-2012 season, Parsons exceeded any playing time projections for him before the season by averaging 36 minutes per game and put up massive numbers of 2.0 3PG, 15.5 PPG, 5.3 RPG, and 3.5 APG. Parsons' a perfect fit for Houston's up-tempo style, he can light it up and will be a popular mid round pick next season.
PF – Tim Duncan – San Antonio Spurs ( PR= 58, SR = 5)
There is a reason so many Spurs are underrated each and every year. Everyone thinks they are old and will break down at any moment. Truth is they are just consistently good year in and year out. Although Duncan was coming off one of the worst years of his career and there were concerns if his run as a fantasy basketball stud was over, he responded with a resurgent 2012-13, averaging 17.8 PPG, 9.9 RPG, and 2.7 BPG. Count those averages with good ratios (.502 FG %, and .817 FT %) and you have a bona fide top 10 option. Duncan will miss a few games here and there, but when he is on the court he is still an elite player. Don't let those few missed games every year scare you from drafting him. I can already feel a lot of Tim Duncan shares for me next year.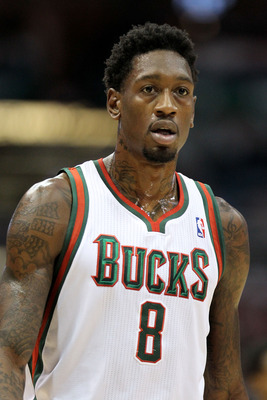 C – Larry Sanders – Milwaukee Bucks (PR= 245, SR = 27)
Larry Sanders was probably not even drafted in leagues this year, but whoever picked him up after the first week of the season is one proud GM. He is one of the top shot blockers in the entire league as evidenced by his 2.8 BPG. Sanders averaged 9.8 PPG and 9.5 RPG this past season with his only blemish being a .618 free throw percentage. The young Milwaukee Center's offensive game will get better and better each year. Target Sanders in your drafts as you may be able to snap him in the 5th or 6th rounds.
"All-Dud Squad"
PG – Brandon Knight – Detroit Pistons (PR= 94, SR = 225)
I was expecting Knight to have a mini breakout this year after a solid rookie season. Well he actually regressed from his rookie season. He fought injuries and embarrassment (must watch!) this year, which limited his production. Knight's offensive statistics were not horrible with averages of 1.6 3PG, 13.3 PPG, and 4.0 APG, but his .407 FG % and 2.7 TOPG were killers. Although he will start the season as the Pistons primary 2G next year, I'm not expecting much. He has the scoring ability to put up Kevin Martin type numbers, but little contributions outside of scoring make him tough to own in fantasy leagues.
SG – Marcus Thornton – Sacramento Kings (PR= 36, SR= 119)
Thornton is a good player, but what I could not understand was why Keith Smart was playing John Salmons over him? I blame his bad year somewhat on his coach. Thornton only averaged 2.0 3PG, 2.5 RPG, and 1.3 APG on .429 percent shooting. I am still a believer in his game and I will be targeting him next year in the later rounds especially after seeing him come on at the end of the year. Thornton had a lost year this year and I can't talk myself out of the idea that Smart will play him more next year.
SF – Gerald Wallace – Brooklyn Nets (PR= 48, SR= 177)
Wallace's career is very much on the decline. Gerald was always an underrated fantasy producer with his ability to rack up stats and a consistent all around game. At 30 years old now, and considering the reckless style he played, it's not surprising to see the decline come quick. After looking lost most of the year and even voicing concerns over his role in the playoffs, Wallace limped to season averages of 7.7 PPG, 4.6 RPG, 2.6 APG, 1.4 SPG and 0.7 BPG on .397 FG % and a .637 FT %. Just awful! Wallace will be towards the bottom of a lot of owners cheat sheets next year.
PF – Josh Smith- Atlanta Hawks (PR= 8, SR = 91)
Smith had his normal great production in the steals and blocks department, but his offensive game was very erratic. Where he really hurt you was with his free throw shooting, averaging .517 FT %. He might leave Atlanta in free agency and I will be closely watching to see where he ends up. With his well rounded game, if he ends up on an up-tempo team like Houston or Phoenix look out! However, if he ends up on a defensive minded team like the Bucks, I doubt I'll be touching him.
C – Dwight Howard – Los Angeles Lakers (PR= 11, SR = 224)
Howard isn't quite as bad as his end season ranks every year, but he did have a down year this season. If you owned Howard, it would have been almost impossible to win in the FT % category once as he shot .492 % from the line on 9.5 attempts per game! Killer. I do believe he was not fully healthy this year and that his back affected him more than we think. If Howard stays in LA, I expect him to bounce back. I don't like building my teams around guys like Dwight that force you to punt on a category. Especially in rotosserrie leagues, it's almost impossible to compete when your getting only 1 point in a category.
Thanks for reading and you can find me on Twitter @Fantasy_Schnerd. Don't forget to read the other great articles on topteamfantasy.com