By John Doylemason

This article is part of our 2013 Fantasy Team Preview series in which we are profiling every NFL team leading up to the season, click here for the complete list of published previews. Also, check out our staff rankings for see how we value each player.
After starting the 2012 season 7-1 in their first 8 games, the Chicago Bears imploded down the stretch losing 5 of 8 and failing to make the playoffs. As a result, Bears General Manager Phil Emery fired coach Lovie Smith and went outside the box by hiring Montreal Alouettes (CFL) coach Marc Trestman to resurrect the dreams of Chicago. For those of you not familiar with Trestman, he's no stranger to the NFL. He coached 8 different NFL teams over 31 seasons ranging from RBs coach to Assistant Head Coach so he's much more experienced than the majority of current NFL head coaches. Those of you who think he won't be successful in the NFL because "he's a CFL guy" are sadly mistaken. So what kind of system will Trestman run with the Bears? That's exactly what's discussed in our first Burning Question! So relax…we'll get to it!

Roster Moves:
Added:  LT Eben Britton, C Taylor Boggs, LG Chris Spencer, QB Josh McCown, OL Matt Slauson, RT Jonathan Scott, TE Martellus Bennet, TE Steve Maneri, LB James Anderson, SS Tom Zbikowski, LB D.J. Williams, DE Turk McBride, LB Zack Bowman, DT Nate Collins, DT Henry Melton, DE Kyle Moore, OT Jermon Bushrod
Drafted: OT Kyle Long, LB Jon Bostic, LB Khassim Greene, OT Jordan Mills, DE Cornelius Washington, WR Marquess Wilson
Lost: LB Brian Urlacher, WR Johnny Knox, K Olindo Mare, RB Kahlil Bell, DT Amobi Okoye, DT Israel Idonije, S Troy Nolan, TE Matt Spaeth, TE Kellen Davis, LB Nick Roach, LB Geno Hayes, CB D. J. Moore, QB Jason Campbell, OT Gabe Carimi
Highlight Players:

One Up: Jay Cutler, QB – The player with the most to gain with the Trestman hire is Jay Cutler. Switching to a pass heavy West Coast offense with quick reads and tosses enables Jay to do what he does best; sling it. In an offense build around the pass, could he be destined for his first 4000 yard season since his Denver days? I believe so! He is a talented QB and arguably has the #2 WR in the league at his disposal. Couple that with an incredible one-two punch in the backfield in Matt Forte and Michael Bush it is easy to see that this offense is built to fly. What really makes Cutler a player on the rise is his potential. He had been an upper echelon QB with Denver in 2008 while playing in an offense catered to his style so perhaps Trestman is just the guy to get him back there. With this new system built to Cutler's strengths, he is a late round pick that could payoff incredibly well.

One Down: Michael Bush, RB  (Runner-Up; Devin Hester, WR/KR) – The Trestman offense will likely lean more towards a 2:1 pass to run ratio and that decrease in carries will directly affect Michael Bush. Although he caught 37 passes in 2011 with Oakland, he is a far inferior pass catcher to Forte and seems much less suited to this new offense. With Forte firing on all cylinders in an offense meant to utilize his pass catching talents, Michael Bush will likely be relegated to short-yardage situations and goal line work. In down-and-distance plays, if Forte needs a breather, the Bears will likely utilize scat-back Armando Allen or retain Bush in pass protection. While the goal line carries are enticing, his potential is greatly limited due to the carries he'll likely receive.
Burning Questions:
1. How will Trestman's offense translate to the NFL?
Although Trestman was known as the Bill Belichick of offense in the CFL, don't forget he has an incredible amount of NFL experience. With 31 years of coaching under his belt (25 coming on the offensive side of the ball), Trestman's in-depth knowledge of the West Coast Offense and its play concepts will match well to the talent of the Bears roster and new Bears Offensive Coordinator Aaron Kromer. The ex-interim head coach during the Saints 2012 season, Kromer was their offensive line coach the past four years including their Super Bowl run in 2009. Kromer's ability to develop effective blocking schemes and familiarity with West Coast Offense linemen play make a perfect match. Further, Trestman and Kromer formerly worked together for the Oakland Raiders coaching staff from '01-'03 so there should be a very seamless transition.
While Trestman will likely run a West Coast type of offense, the key to his offense (which Kromer utilized extremely effectively in New Orleans) is protecting the quarterback. While Mike Martz's offensive scheme's often put Cutler in terrible positions, the Bears new offense will block from the "inside-out, a scheme that is not very common in the NFL as it focuses on stopping the inside blitzes while often letting the pressure come from the outside which will allow Cutler to step up in the pocket. If done effectively, no longer will we see Cutler being tossed around like a rag-doll (likely will help get his interceptions and fumbles numbers come down as well).
The offense will involve short high-efficiency passes to supplant the run game as the main scheme to gain yardage. Utilizing two and three receiver sets, coupled with pass catching tight ends and running backs to overload zones and take advantage of spacing mismatches is Trestman's M.O. Whether it's route or formation combinations, or downfield blocking schemes designed to spring high-efficiency pass plays, Trestman was able to carve up the CFL and win two Grey Cups.
Who benefits? Jay Cutler first and foremost. Expect the gunslinger to throw 42+ attempts a game putting him in the Top 5 in attempts. The last time Cutler threw the rock 600+ in a season (2008 in Denver) he racked up 4526 yards and 25 touchdowns. As a defensive minded coach, Lovie Smith kept Cutler shackled running almost as much as they passed (470 to 485). That won't be the case in 2013.
So who catches these passes? Cue Brandon Marshall, Alshon Jeffrey, Earl Bennett, Martellus Bennett, and Matt Forte. Brandon Marshall may very well hit 118+ receptions again as Trestman will likely move him around a lot at the line of scrimmage to exploit matchups, which is why I have him ranked as my #2 WR for 2013. I expect Earl Bennett to grasp the offense more quickly and retain the slot WR role, while Alshon Jeffrey has a great opportunity to start oppose Marshall if he impresses in camp (more on this in Burning Question #3). Martellus Bennett, while incredibly athletic, will likely take a step back from last season due to scheme. While in New York he was often running deeper routes (averaged 11.4 yards per catch, highest since his rookie year), he will likely be asked to be more of a possession WR and a blocker.
Look for Matt Forte to handle the bulk (albeit limited) of the carries. OC Kromer does have a pension to run the ball in goal line and short yardage situations so Michael Bush may poach TDs, but I expect Forte to have 200-220+ totes and 65-75+ receptions based on scheme and ability.
2. With all the changes on D and the loss of Lovie Smith, will the Bears still be a stud D/ST?
Although the Chicago Bears lost Hall of Fame MLB Brian Urlacher and defensive minded coach Lovie Smith, I do not see any notable changes on the defense in scheme or depth that would lead me to believe that anything will change. The Bears will still be a fantasy force in 2013.
New Defensive Coordinator Mel Tucker arrives from Jacksonville and will implement the same single-gap 4-3 Cover 2 Defense that has been a staple in Chicago over the last decade. Tucker brings 16 years of coaching experience emphasizing defensive backs. A former defensive back himself, Tucker has five years of experience as a Defensive Coordinator in the NFL to boot. In his four year tenure with the Cleveland Browns as a DB Coach and D-Coordinator, his unit consistently ranked in the top 10 in interceptions. After taking over the DC position in 2009 in Jacksonville, his unit steadily improved and by 2011 became the fourth highest rated defense.
Tucker inherits a stout and prideful defense with lofty expectations and a roster capable of reaching them. The Bears return all starters across the defensive line. Resigning DTs Henry Melton and Nate Collins boosts the interior against the run and DEs Turk McBridge, Kyle Moore, and rookie Cornelious Washington (assuming he can keep his head on straight) will provide quality depth to spare Corey Wootton and Julius Peppers.
The secondary should improve under the tutelage of Tucker. He has a great deal of defensive back coaching experience and the unit returns all starters. The starting unit racked up 18 interceptions led by 9 from CB Tim Jennings. More impressive is that 5 of those INTs were returned for touchdowns. And if 24 interceptions doesn't impress you, this ball swarming defense also forced 26 fumble recoveries (including 10 by Charles Tillman).
The linebacker corps is somewhat suspect but I would not discount the remaining talent. Lance Briggs is still playing at a high caliber. James Anderson (CAR) was brought in to shore up the left side while D.J. Williams (DEN) anchors the middle. While both linebackers are returning from injuries that sidelined them for the better half of 2012 they were able to produce admirably in previous seasons. I anticipate there will be some growing pains, but the two are familiar with the 4-3 philosophy and have the youth and energy to adopt to the wrinkles Tucker will throw in.
The interception returns for TDs are likely to decline but as long as you have a defense than forces as many turnovers as the Bears do, coupled with an elite return game with one of the game's best returners in Devin Hester, I can safely say the Chicago Bears will remain a top fantasy defense again in 2013.
3. Does Alshon Jeffrey take a step forward this year, or will it be "The Marshall Show" again in this offense?
Let's face it. Chicago is a Brandon Marshall world and everyone else is just living in it. You might as well motto the season: "We Are Marshall."
If we assume Cutler continues to average a 62% completion percentage, he should connect for around 372+ completions (~600 attempts per season based on Trestman's playbook). With Cutler tossing it 42+ attempts a game there will still be enough passes left to spread around the corps after B-15 gets his. Let's look at the numbers from 2012… If Marshall can command 118 receptions (43% of the completions in 2012) while in a 50:50 run/pass offense, he can surely duplicate those numbers in a 33:66 West Coast Offense. That leaves another 250+ balls open. I've predicted that Forte will receive about 65-75+ receptions out of the backfield based on Trestman's offensive history and Forte's superiority as a receiving back.
That still leaves 175 receptions on the table. Assuming the backups TE Steve Maneir and RB Michael Bush (among other situational depth players), catch around 25 receptions we have about 150 to be split amongst #2 WR Earl Bennett, #3 WR Alshon Jeffery, and TE Martellus Bennett. There is still a glimmer of hope for a second member to have fantasy relevance in this group but it will not be from the TE position. The West Coast Offense will retain a TE to block routinely.
"There are those who believe that a tight end with ballast and strength and girth is key to their offensive system because he has as important a role as a blocker as there is. If the tight end can block a defensive lineman on the edge of the offense, then you automatically have a running game just with that single feature."-Bill Walsh, the authority on the West Coast Offense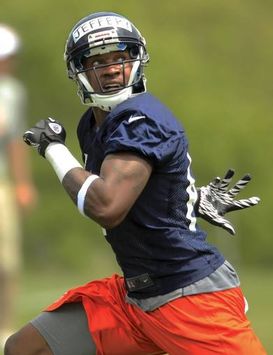 Do not expect Martellus to accrue over 45 receptions, although he may be featured around the goal line and as has talent that he will have a few stellar games, his potential is limited. So now we have 105 receptions left for Bennett, Jeffrey and other WRs like Devin Hester and Devin Aromashodu. It is difficult to apply metrics to the oft-injured Bennett or the unproven sophomore Alshon Jeffery, but I believe by season's end it will be the latter that leads that group in receptions based on talent, ability, youth, and injury history. If Alshon can get close to replicating his 15.3 ypc in 2013 at 50+ receptions, your looking at a 700 yard, 5-6 TD type of guy; hardly a fantasy stud, but quality depth on your roster.
Watch out for the Bears in 2013! There will be some rough patches as the offensive gels with Trestman's new pass-heavy West Coast attack, but it should play perfectly to the talent on hand. Jay Cutler will return to form and Brandon Marshall will make a run at Calvin Johnson. Matt Forte will lose carries but be a PPR beast. The defense returns without its legendary leader roaming the middle, but on paper they are reloaded and more than capable of remaining a top fantasy defense.
Follow us on Twitter @BerkeleyRaven and @TopTeamFantasy to get the latest fantasy news and advice.