By Amber Boskers
This article is part of our 2013 Fantasy Team Preview series in which we are profiling every NFL team leading up to the season, click here for the complete list of published previews. Also, check out our staff rankings for see how we value each player.
Thirteen and three. Eleven-game winning streak. Consecutive AFC West Titles. First round play-off bye and home field advantage. Seems like a fairly decent season record, considering everything. That is, unless you're the Denver Broncos. Under the watchful eye of executive vice-president of operations John Elway and head coach John Fox, the Broncos had an amazing 2011-2012 season but it's all about the finish and the bitter taste of defeat came too soon upon their double overtime loss to the eventual Super Bowl winning Baltimore Ravens. Two games short of their destination. Two games short of sensational. What will be will be; but his year will be different. Who's ready for a Championship?

Roster Moves:
Added (16): G Justin Boren, WR Gerell Robinson, DT Ben Garland, S Duke Ihenacho, T Paul Cornick, C Quentin Saulsberry, S Blake Gideon, RB Jeremiah Johnson, S David Bruton, DT Kevin Vickerson, DT Terrance Knighton, LB Stewart Bradley, CB Dominique Rodgers-Cromartie, WR Wes Welker, G Louis Vasquez, LB Shaun Phillips
Drafted (7): DT Sylvester Williams, RB Montee Ball, CB Kayvon Webster, DE Quanterus Smith, WR Tavarres King, OT Vinston Painter, QB Zac Dysert
Lost (5): LB DJ Williams, QB Caleb Hanie, RB Willis McGahee, DE Elvis Dumervil, LB Joe Mays
The Broncos had a pretty busy offseason, highlighted by acquiring slot WR stud Wes Welker and drafting RB Montee Ball (more on both later). The addition of Welker arguably makes the Broncos the strongest WR corps in the league, coupled with the fact that they are led by 12 time Pro Bowler and future Hall of Famer Peyton Manning, means there is plenty of opportunity for fantasy stardom. Montee Ball is currently locked in a camp battle with both Ronnie Hillman, who right now seems to have the edge, and Knowshon Moreno. While Ball may have the most upside of the group and Sports Illustrated's Peter King has (among many others) have projected Ball to win the job.
Den stuff: Montee Ball better than Pittman, to win job eventually … Rookie DE Quanterus Smith flashes … Elway: DRC best cover CB in lg.

— Peter King (@SI_PeterKing) July 26, 2013
On the defensive side of the ball, there are significant questions. Not being able to work a fax machine (hey, it's pretty hard!) caused star LB Elvis Dumervil to be released to free agency and eventually he signed with the Baltimore Ravens. To make matters worse, his LB partner in crime last season (and AFC Defensive Rookie of the Year as well as two time Pro Bowler) Von Miller is facing a four game suspension. The suspension is currently under review and could potentially be overturned. If not, it will be a huge loss for that defense especially with tough games vs. defending champions Baltimore Ravens, and the New York Giants in the first two weeks of the season.
Injuries have also plagued the Broncos since training camp began. CB Dominique Rodgers-Cromartie, who will start opposite Champ Bailey, hurt his ankle just a couple days ago, suffering a high ankle sprain, and will miss 2-3 weeks. While DRC has been inconsistent, he's one of the best talents in the game, so if healthy he can have a huge impact on that defense and help make up for the pass rush potentially not being as formidable as last season. Additionally, C Dan Koppen tore his ACL in training camp and will be out for the season. Luckily, the Broncos were able to call on Peyton's former teammate in Indy, Ryan Lilja, who came out of "retirement". Lilja was the 14th ranked C last year according to Pro Football Focus, so assuming his healthy issues are behind him it's a great add for the Broncos.
Highlight Players: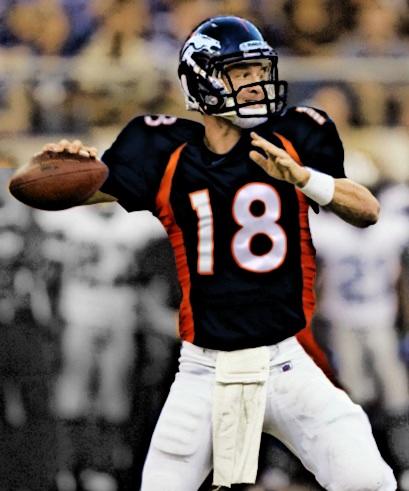 One Up: QB Peyton Manning – How can I not say Peyton Manning? I mean seriously. He basically one upped everyone in football last season, except the Broncos organization and those who drafted him in fantasy football (yes, that includes yours truly). With at least 39 regular season NFL records, 11 playoff records, 9 pro bowl records, and 58 Indianapolis Colts records (not including QB-WR tandem records with Marvin Harrison), Peyton is one of the most talented and decorated quarterbacks in NFL history. And he's not done yet. Last season he inked out 6 more records with the Denver Broncos, including franchise single season records in highest completion percentage (68.6%), most completions (400), most 300+ passing yard games (7), most touchdown passes (37), and highest passer rating in a season (105.8). And this season, he will continue the trend as he's in position to become the 3rd player in NFL history to reach 60,000 career passing yards (needs only 513 yards), can pass Dan Marino as #2 overall for all-time passing yards (needs 1,874), and can reach 450 career touchdowns (needs 14). I have no doubts at all. He comes in as our 4th QB in our staff rankings.
One Down: Jacob Tamme – Coming into the 2012 NFL season, Peyton's TE from Indy, Jacob Tamme was a popular sleeper as they showed good chemistry back in Indianapolis. However, Tamme and Joel Dreesen essentially cancelled each other out in 2012 in fantasy, with 52 catches for 555 yards and 2 TD for Tamme and 41 catches for 356 yards and 5 TDs for Dreesen. Now that Wes Welker is in town, expect that reception total and yardage to decline even further for Tamme. Dreesen is a much better RZ threat, so the TE that figures to be hurt the most is Tamme. As you would expect, he caught a lot of short balls over the middle which is now Welker's job. Even more concerning is that the Broncos have two young TEs nipping at the veterans heels.
The best athlete the Broncos have at TE is a 3rd year named Virgil Green out of Nevada. He runs a 4.54 40 and had the best broad jump and vertical of any of the TEs in the 2011 class. Also, 3rd year Julius Thomas is tearing up Broncos camp and has been playing with the first team while Dreesen is sidelined. Both have a chance to see significant playing time if they continue to impress. Therefore, in standard leagues, I'm not touching any of the Broncos TEs. Those three stud WRs will be the primary three targets in the offense and will dominate touches. However, if I'm in a pretty deep league (16+), I'd be taking a chance on Thomas based on upside as my TE2. He's a player in the mold of Jimmy Graham and Antonio Gates (athletic basketball player turned football player) so if he and Peyton get on the same page and he can move past his injury issues, look out!
Burning Questions!
1) Peyton reportedly has a lot more arm strength back this year, could we see even better from him at age 37?
Um, yes. Age is just a number. When the Broncos signed the Sheriff to a 5-year $96 million contract back in March 2012, it was business as usual for the future Hall-of-Famer. A year out of football? No problem. A neck fusion and four surgeries? Meh, no biggie. Peyton finished the 2012 season with 16 starts, 583 pass attempts, 400 completions, 4659 passing yards, 37 touchdowns, 11 interceptions, nine 300-yard passing games, and the second highest passer rating of his career, 105.8. He actually improved his completion percentage from 66.3% in 2010 to tied for best in the league at 68.6%. Peyton Manning is not going away until he gets another Super Bowl, and getting injured again is not part of the gameplan. In fact, he has a clause in his contract that in the event of a non-neck injury this year the Broncos will owe him $40 million next year. So you can bet your bottom dollar that the Broncos are going to protect their assets, both him and their bottom line, while at the same time giving Manning as many weapons as possible to control the AFC and get to the Super Bowl. Fantasy projections for the 2013 season, 40 touchdowns, 5,000 passing yards.
2) Montee Ball is going in the 5th round having never played an NFL snap, has the hype gone too far?
Not likely. Once the 31-year old Willis McGahee sustained a serious knee injury and missed two months last season, it was clear that the time was now to replenish the roster with younger talent. Denver wasted little time in moving forward, picking up Wisconsin Badger Montee Ball in the second round of the 2013 NFL Draft. Ball finished his collegiate career with 5,140 total yards, 77 rushing TDs and 6 receiving TDs. He set NCAA career records for Most Rushing Touchdowns (77), Most Touchdowns (83), Most Consecutive Games With Two Or More Touchdowns (13 in 2011), Most Points Scored By A Non-Kicker (236 in 2011), and Wisconsin/Big Ten/NCAA Single Season records for Most Touchdowns in a season (39 in 2011). Let's not forget that Peyton Manning has experience with rookie running backs. In 1999 Edgerrin James played 16 games, ran for 1,553 yards and 13 TDs in his rookie season, then in 2006 Joseph Addai played 16 games, ran 1,081 yards and had 7 rushing TDs in his rookie season. Fast forward to 2013, a new team but the same Sheriff running the show. Ball is the most talented RB of the three (Ronnie Hillman and Knowshon Moreno) and expect in the end for him to win that job. Especially since Hillman continues to play in front of him, his ADP continues to drop at which point you could be getting a steal that could turn the tides in your league. Ball is still the leading RB in our staff rankings.
3) Can Denver's three WRs all be fantasy starters? How do they stack up at the end of the year?
Generally speaking? No. But this is the Broncos and nothing is usual here. With Peyton Manning doing what he does and in complete control of the offense, there's no question that a three wide-out committee is nothing short of brilliant. At 25 years old, Demaryius Thomas is now in beast mode, finishing the season 4th overall for WR receiving yards (1434), 3rd with seven 100-yard games, 5th in WR fantasy points (191 points), 141 targets and 10 touchdowns. At 26 years old, Eric Decker finished the season with 13 touchdowns (2nd highest), two 100-yard games, 1,064 total yards , 122 targets, and tied for 7th with Andre Johnson with 176 fantasy points. As the elder of the bunch, 32-year old Wes Welker comes from New England as one of the best slot receivers in the game, and ranked 3rd overall for receptions (118), 8th for receiving yards (1,354), 4th for targets (174), had five 100 yard games, 7 touchdowns, and 12th in scoring with 163 fantasy points. Peyton will make sure there are plenty of targets to go around for these fantasy starters. Keep in mind that back in Peyton's career year (2004), three of his WRs; Marvin Harrison, Reggie Wayne and Brandon Stockley all had 1000 yard seasons with at least 10 TDs. I wouldn't expect the 10 TDs for each one of them, but having three 1000 yard WRs once again is a very real possibility. I'd project end of year numbers of Thomas getting the edge with approximately 1300 yards and 12 TDs, Decker with 900 yards and 10 TDs, and Welker with 1100 yards and 6 TDs. All three will be reliable fantasy producers, and you should invest heavily in them. All three are ranked in the top 25 in our staff rankings.
Follow us on Twitter @Jakita10 and @TopTeamFantasy to get the latest fantasy news and advice.