By J.D. Redemann
This article is part of our 2013 Fantasy Team Preview series in which we are profiling every NFL team leading up to the season, click here for the complete list of published previews. Also, check out our staff rankings for see how we value each player.
Although Boston certainly isn't a sleepy little town, they usually leave most of the drama and fast-paced, action-packed mayhem to their neighbors to the south in New York City. But, oddly enough, the Jets and Giants are much quieter organizations right now than the Patriots, whose offseason to-do list probably looks a lot like this:
1.) Find a tight end who isn't injured
2.) Make sure that tight end doesn't have gang connections
3.) Find other breathing humans for Tom Brady to throw to
4.) Cry a little bit
5.) Slip into a comfy new pair of men's Uggs and relax.
Foxborough this year will be the epicenter of a shockwave in the sports world: the heralded TE tandem of Rob Gronkowski and Aaron Hernandez is no more and Brady is without a clear-cut #1 receiver for possibly the first time in his career. What does this mean for "Tom Terrific" and his fantasy chances this year? Will the lack of a stable aerial attack cause the Pats to run the ball more? Let's find out…
Note: All joking aside, these are serious times for many of the players and people directly connected or coincidentally affiliated with the Patriots organization, and not merely in a football sense. This goes beyond a box score or a check mark in the win column, when at least one young man has lost his life and another has thrown his whole future away. The entire Top Team Fantasy staff has the Odin Lloyd family in its thoughts and wishes, and we hope that justice is served for them (whatever that means for the other parties involved).
Roster Moves
Added: QB Mike Kafka, QB Tim Tebow, RB LeGarrette Blount, RB/KR Leon Washington, WR Michael Jenkins, WR Donald Jones, WR Danny Amendola, OT Will Svitek, S Adrian Wilson
Drafted: WR Aaron Dobson, WR Josh Boyce, DE Michael Buchanan, OLB Jamie Collins, ILB Steve Beauharnais, CB Logan Ryan, S Duron Harmon
Lost: RB Danny Woodhead, WR Wes Welker, WR Deion Branch, WR Donte' Stallworth, WR Brandon Lloyd, TE Aaron Hernandez, G Donald Thomas, DE Trevor Scott, LB Tracy White, CB Will Allen, S Patrick Chung
Getting this out of the way right now: I love Tim Tebow, but there is no quarterback controversy in New England. None. Stop it now. The only action Tebow will see this year is if both Pats QB's in Tom Brady and Ryan Mallett are injured in the same freak shuffleboard accident while cruising on their yacht in Nantucket Bay….
I get the whole "you need us more than we need you" act that head coach Bill Belichick throws down every offseason, but the loss of Danny Woodhead and Wes Welker (not to mention every other receiver formerly known as a Patriot) for the likes of LeGarrette Blount, Michael Jenkins, and Donald Jones doesn't really inspire a lot of fear in opposing defenses, regardless of who's throwing the ball. The one fear-inspiring offensive weapon added is slot WR Danny Amendola, who is basically Wes Welker-Lite, with an added dash of perpetual injury concerns. I think that Amendola will be highly productive in this offense with Brady throwing him the ball, but he will get destroyed going over the middle. He has the potential to have the best season of his career, but realize that it's not if but when his next injury will happen…. From a purely football perspective, there is a point in drafts that, even in redraft leagues, Aaron Hernandez has value purely on speculation, if some way all this goes away and he signs with another team. To me, that position is TE #16. If you can get him with your last-round pick, take a flier until we hear further word on his legal situation. I likely won't be owning him, though, and that's fine by me. Last thoughts are for rookie WR's Aaron Dobson and Josh Boyce. They are young, very projectable, and will have opportunities to grab starting gigs right away. Under Belichick and offensive coordinator Josh McDaniels' tutelage, they should become fantastic targets for Brady, especially in keeper/dynasty formats. I prefer Dobson (who was actually ranked 48th at WR by one of our rankers, Jonathan, but didn't make our consensus top 50), but I'd take a late-round flier on either.
Highlight Players

One Up: Young Receivers (WR Aaron Dobson & Josh Boyce, TE Zach Sudfeld) – If I told you that you had the chance to draft a team's #1 wideout who's a red zone threat a la Roddy White, or their #2 downfield threat with your last pick in the draft, and that both of those guys were being thrown to by a perennial Pro Bowl quarterback, what would you say? What if I told you that you could probably pick up a replacement TE off the waiver wire in Week 1 that has similar physical gifts to Rob Gronkowski and a nearly identical team situation as him? You'd probably rush out and grab that guy right away. That's what we have in Josh Boyce, Aaron Dobson, and Zach Sudfeld in New England today. With the injury to Gronk and the loss of Welker and Hernandez, there are bundles of opportunity available to grab for very, very cheap on draft day. The only receiver you won't get for dirt-cheap in this offense is Danny Amendola, but the 6'3″, 205-lb. Dobson is a better physical specimen anyway, and shows a fantastic combination of pure speed and strength in the passing that few receivers have. Josh Boyce may not have the underneath quickness of Amendola, but he has great vision and hands, and he will run his routes well, making him a great target for his stickler QB. Sudfeld is getting a lot of hype for his OTA performance, and Brady will need another big option for checkdowns and at the goal line, especially with Jake Ballard looking rigid in practice. Remember, too, that Brady has an uncanny ability to raise the level of play of those around him. If ever there were unheralded rookies to keep your eye on, it's these ones.
One Down: Rob Gronkowski, TE –
In a redraft league, I cannot in good faith recommend Gronkowski as a draft-day target for you. I mentioned this earlier in the offseason on Twitter, but the Gronk's four arm surgeries and now his back surgery all in the same offseason worry me too much. This is a big guy who plays hard, and that's where his value lies over others at his position. If his elite physical ability is hampered, Gronkowski will not be much more than an average player at tight end, regardless of his opportunities in the New England offense. He will start the preseason on the preseason Physically Unable to Perform (PUP) list, and reports are saying that he may even begin the regular season on the PUP list, as well, which would rule him out until Week 7 at the earliest. Even if he doesn't begin the season ruled out, how often will he be questionable or doubtful leading up to games, thanks to Bill Belichick's tomfoolery with the injury notes, making it horrible to guess if he'll play? And even if he is active and plays, will he be effective? Or will he drop 15 passes from these injuries, like Jimmy Graham did last year? Some are saying that "ten games of Gronk and one replacement player are better than the next best thing", but I heartily disagree. With his current state of being, Gronkowski is not worth a top-3 TE pick (he comes in as my #5), and that's before considering that he may reinjure himself in-season. There are too many questions with him and that offense in general for you to spend a good pick on him.
Burning Questions!
1) With Hernandez gone and Gronk potentially missing significant time, who steps up in their places?
Jake Ballard is the #1 guy to take over the tight end position in the wake of Gronk's injuries and Hernandez's release. As a veteran with big size and big hands, Ballard was a great target for Eli Manning during the Giants' Super Bowl run in 2011. After injuring himself in the championship game, Ballard sat out last season to rehab, but appears to be back to his old self. Now, Ballard has a similar physique to Gronkowski but is nowhere near the same athlete, so expectations must be tempered for him, especially coming off of a serious knee injury. In his one season with the Giants, Ballard caught 38 passes for 604 yards and 4 TD's. In an atrophied Patriots offense, that should easily be attainable; the question is whether or not he can achieve more than that. The yardage seems about right if he obtains a featured role in the offense, but I can't imagine more than 5 TD's at the maximum will come his way, and that's where a lot of Gronk's value lay. He should be a fine sleeper in drafts, but not a guy I'd take high.
Even more interesting, should he win a large role, is undrafted rookie Zach Sudfeld. Reports say that he has appeared "impressive" in team OTA's, showing his excellent pass-catching skills, and the route-running ability that could have him replace Aaron Hernandez on the other end of the line. He is an elite blocker, which is much better than what Hernandez brought to the table, and he and Ballard could provide an interesting TE tandem in lieu of last year's starters. Bear in mind that the Pats may simply de-emphasize the position in their game plans, but with all the upheaval on the offense, these two are certainly worth endgame fliers.
2) Head coach Bill Belichick loves to spread the rushing attempts around. Does that mean starting RB Ridley and impressive backup Vereen's jobs aren't safe?
I think the exact opposite: with all of the questions in the passing game, perhaps Belichick puts a little more emphasis on the running game here. Ridley is about as close to a bellcow back as one can get in an offense that passes so much and also has a highly productive backup, and I don't think that changes one bit here. He's going to get goal-line looks and is their primary back. With 4.4 yards per carry last year and nearly 300 rushing attempts (resulting in 11 TD's), I feel dirty even considering that Ridley's ability to maintain his top job is in question. Vereen, too, has shown to be extremely valuable as a complimentary back (4.0 yards per carry) and may be budding into a good receiver out of the backfield (149 receiving yards, despite only 8 receptions) especially now with Woodhead and his 40 receptions in San Diego.
These two are about as set as one can get. Besides, who on the roster would take their places? In ten out of sixteen games last year, LeGarrette Blount had a yards per carry of 3.0 or less (one even saw him take five goal line attempts and net a total of -2 yards). Formerly seeming to be a power runner, he is no threat to Ridley's goal line dominance and he is useless as a change of pace back because he simply cannot convert high-leverage opportunities and is no pass-catcher. Leon Washington saw only 27 touches last year outside of the return game and accumulated a whopping 114 total yards in those touches. Don't concern yourselves with anyone besides Ridley or Vereen here. (Note: While Vereen is a great sleeper, his ADP has skyrocketed by 2 rounds over the past two weeks, he's a great risk of being overdrafted if it keeps rising.)
3. With all the question marks surrounding the NE offense, will Tom Brady remain a top QB?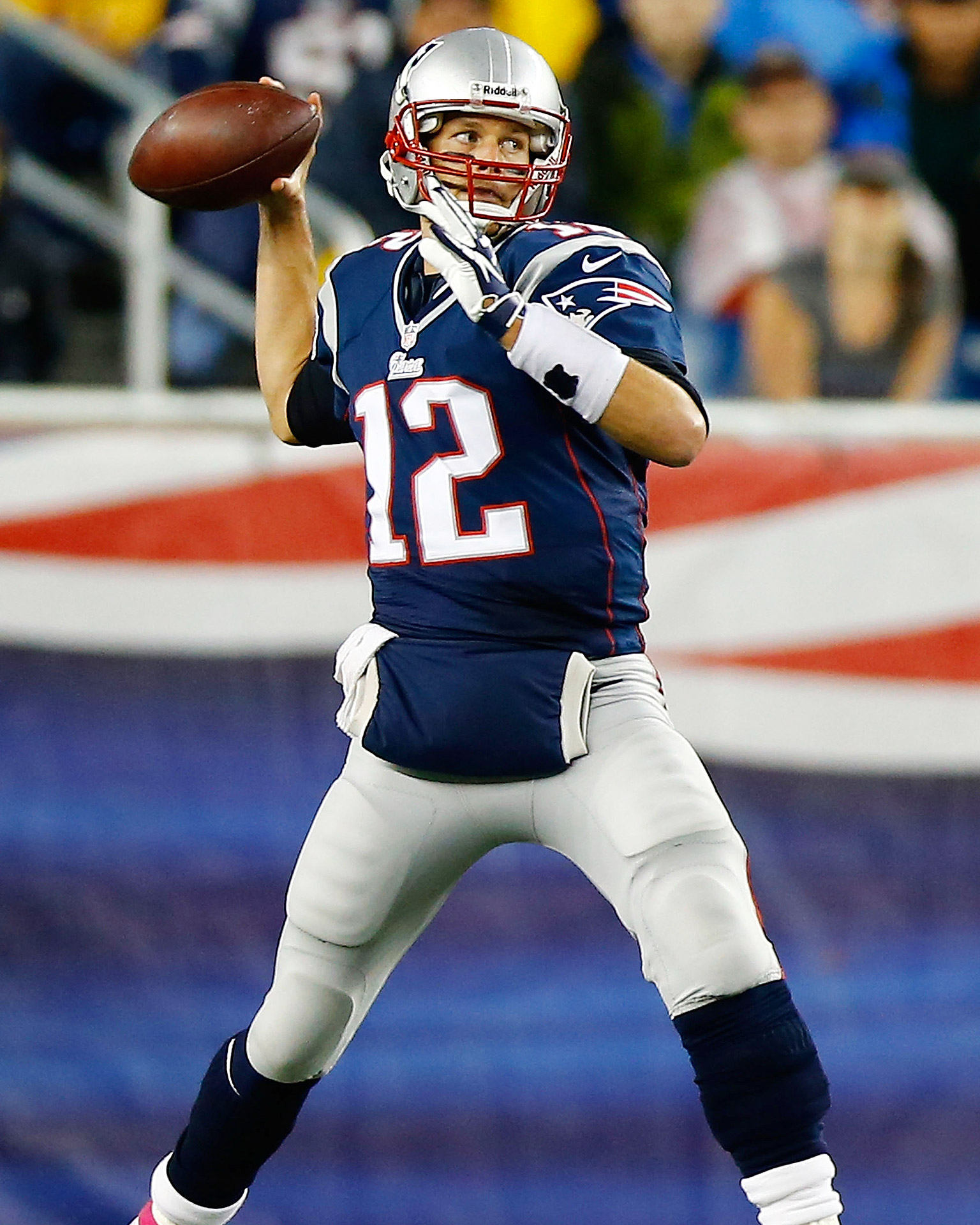 As much as I personally dislike the Patriots, for the sake of football being enjoyable to watch and fantasy leagues being fun to play, I sure hope so. Brady has a knack for taking unheralded receivers and turning them into valuable players around him, unlike any other quarterback in my lifetime, so if anyone can make lemonade out of this offense, it's him. That being said, there is just too much risk to instantly assume that Brady can still produce elite-level numbers for your fantasy team. I have no concerns about the Patriots in real life; they'll still make the playoffs, by my estimation. But "Tom Terrific" may hit a wall this season. At age 35, having to play in outdoor New England weather when winter rolls around, and without his five best receivers from last year, Tom may finally topple. 84% of his 402 completed passes went to one of Wes Welker, Brandon Lloyd, Rob Gronkowski, Aaron Hernandez or Danny Woodhead last season. Without any sort of continuity in the passing game and the Patriots' history of failure with rookie receivers, I am seeing big red flags for Brady this year. Elite talent doesn't simply disappear, however, so I don't believe he'll plummet to the low end of the top 10. He does, however, drop behind the dynamic and dangerous Cam Newton for me, to QB #4 for this season.
This is a team that will have "some 'splainin' to do" when August and preseason rolls around, but there is significant value in drafting some of these players late. The big names are a bit toxic, but that only means that opportunity is just around the corner for the rookies and newbies who take it. It should come as no surprise that I'm still bullish on the Brady-Belichick combo. They've worked wonders before; why not now?
Follow us on Twitter @JR_TopTeam and @TopTeamFantasy to get the latest fantasy news and advice.