By Ryan Downes
This article is part of our 2013 Fantasy Team Preview series in which we are profiling every NFL team leading up to the season, click here for the complete list of published previews. Also, check out our staff rankings for see how we value each player.
"Just win, baby!" – Al Davis
Oh, Al. How did we get here? Three Super Bowl wins between '76-83 and one AFC Championship in 2002. And now, the silver and black are one of the laughing stocks of the league. Davis is probably looking down on this team in disgust. It's a whole new world in the NFL, and if you want to win, baby, you need it all to click.
The Raiders are coming off a 4-12 season and have not had a winning campaign since that 2002 AFC Championship year. In fact, over the past 10 years, the Raiders have a record of 49-111. In those ten years, they had two 8-8 seasons. In the other 8, they lost at least 11 games. This is horrible, to say the least. If they are going to turn this around, they need an effective QB, a healthy RB, and a stout defense. Is this the year the Raiders finally start the steep climb to the top? Let's take a look…
Roster Moves:
Added: P Chris Kluwe, DB Charles Woodson, DT Pat Sims, DE Jason Hunter, LB Kaluka Maiava, LB Nick Roach, DT Vance Walker, OT Alex Barron, WR/KR Josh Cribbs, QB Matt McGloin, OL Andre Gurode, S Reggie Smith, RB Rashad Jennings, CB Mike Jenkins, S Usama Young
Drafted: DB D.J Hayden, OL Menelik Watson, LB Sio Moore, QB Tyler Wilson, TE Nick Kasa, RB Latavius Murray, TE Mychal Rivera, DL Stacy McGee, WR Brice Butler, DE David Bass
Lost: QB Carson Palmer, DT Tommy Kelly, T Jason Slowey, LB Rolando McClain, LB Mario Kurn, DB Akwasi Owusu-Ansah, TE Mickey Shuler
Highlight Players:

One Up: Oakland D/ST – A season ago, the Oakland Raiders ended up as the very last defensive team in ESPN standard scoring leagues. They put up 37 total points, whereas the next worst team (The Chiefs) scored 42. That makes this an easy choice. All they have to do is move up one notch and it makes this a correct prediction! The good news for them is that they can vault a fair amount higher than that. They've got pretty much a whole new defense. I haven't seen this much turnover in one place since the Great American Bake Off. Virtually every starting player on this defense is new to the team. They brought on the following men who are all projected to be starters at their positions:  FS Charles Woodson, CB Mike Jenkins, DT Pat Sims, DT Vance Walker, DE Jason Hunter, LB Nick Roach, LB Kevin Burnett, and LB Kaluka Maiava. In addition, they drafted a few defensive players, with CB D.J Hayden (12th overall) and LB Sio Moore (66th), being two guys that could have significant immediate impact.
Charles Woodson comes back to his original NFL home after spending the past 7 seasons in Green Bay. Yes, he will turn 37 in October; however, he brings great experience and leadership to the team. His presence alone should have a profound impact on this group. He's too proud at this point in his career to play on a team that ends up last as a defense. He'll man the free safety spot and should help to coordinate things from the back of the field. Mike Jenkins comes over from Dallas to start at CB opposite the rookie Hayden. He's missed 7 games over the past two seasons, but if he can stay healthy, he should bring even more stability to the D. While not spectacular by any means and also not a real INT threat, he's a solid player in that he can stay with a receiver and give them a hard time seeing the ball. 
On the other side of Jenkins will be rookie D.J Hayden who was drafted out of Houston. he had to have surgery in late May due to a heart issue and has yet to be cleared for contact, but if active, should be a player at the next level. The additions of Woodson, Jenkins, and Hayden will instantly give the team an improved coverage team.
One of the more intriguing players here is the other rookie mentioned, Sio Moore. He's got the speed and versatility to rush the QB and to cover receivers. While Roach, Burnett and Kaluka have also been added at LB, Moore could have enough talent to see a large number of snaps. It's difficult to project talent in the NFL, but Moore certainly should have a chance to develop into something special. 
As for the rest of the aforementioned additions to the interior of the defense, none of the players can be considered superstars, or even impact guys thus far into their careers. Still, they have to be better than the group that Oakland lined up last year. All this movement should add up to a much better defensive finish than dead last. Will they be worth drafting in fantasy? Only time will tell. But, I do consider them to be worthy of keeping an eye on.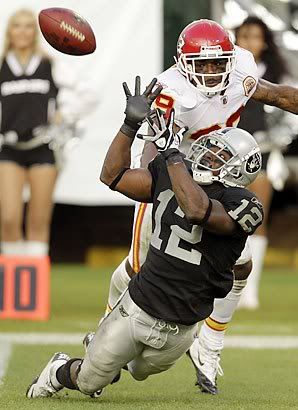 One Down: Jacoby Ford, WR – Ford missed half of the 2011 season with a left foot injury and then re-injured the same foot last August and missed all of 2012 after having surgery. In essence, it may seem that there's really no place for him to go but up. However, barring an injury, it's unlikely that Ford will be able to put up any significant fantasy stats. He'll be behind Denarius Moore and Rod Streater on the depth chart, and could be pushed for playing time by Juron Criner as well. He used to be quite speedy, but that speed very well may never return. His route running is notoriously poor and it's usually fairly difficult for a player to refine that part of their game this deep into their career. Add these facts to the one that Ford is pretty small for a WR at 5' 9" and 190 lbs., and you've got a recipe for a very short career. Ford is only 26 years old, but unless he heals up quick, or learns to be better at his craft, he could be out of the NFL altogether in a very short time.
Burning Questions!
1) Darren McFadden can't seem to stay healthy. Which of his backups should be targeted in fantasy?
Before we discuss this point further, I just want to insert one caveat here. And it's this, '"you can't keep a good man down". McFadden is good at what he does, and in my mind, I truly think this is his year. He will finally stay healthy and get into a full 16 games! He'll go for 1,000+ yards this year and make people remember why he was so highly touted coming into the NFL. He'll be 26 to start the year, and it might finally be his breakout season. Here's an underrated Raider who will help some fantasy teams win it all! He comes in tied for 19th at RB in our staff rankings with Darren Sproles.
Now, the question asks about backups, so let's not get too far ahead of ourselves. After all, we have to see it to believe it and at this point, most of you probably think I'm nuts. You especially think I'm crazy if you read my AP article posted on this site a while back. But, I'm not crazy; I just follow NFL trends and mathematical probabilities.
So, which backup do you take as the McFadden handcuff? The real choices are: Rashad Jennings, Latavius Murray and Marcel Reece. I'd rule out Reece right away, as he is primarily a blocking back and a FB at that. He had 271 YDS on 59 ATTS last year, which was good for a 4.6 AVG. But, I'd wager that OAK would look towards the other two men first, in terms of RB production. As for Jennings, he looked like a force in 2010 and 2011 as MJD's backup, but when MJD got injured and he had a chance to take over, he completed imploded eventually getting benched and later injured. Latavius Murray has been a popular sleeper as the guy to take over as DMC's backup but he's been out with a foot issue for a lot of camp so far. As a result, expect that Jennings will have the first opportunity as McFadden's backup and in case of injury would be the first replacement option.
2) Career backup Matt Flynn is expected to start at QB. Will he have any fantasy value?
Finally! We're going to get a chance to see this guy start in the NFL! He's shown flashes of promise in his senior year of college at LSU and in scattered NFL action. In January of 2012, Flynn started a game against the Detroit Lions and threw for 480 yards and 6 TDs, both representing all-time Green Bay Packers records. Most people also remember the 2010 game versus New England when he started for an injured Aaron Rogers and threw for 254 YDS and 3 TDS. They lost the game 31-27, but it was an exciting game that showed what Flynn was capable of.
Plenty of folks will point to the fact that he was the backup to Jamarcus Russell at LSU and lost the starting job in Seattle to Russell Wilson as knocks on Flynn. However, JaMarcus was a very productive college player with the body type to devastate college players on the defensive end. And we all saw what Wilson was able to accomplish in his rookie year in the NFL. Nevertheless, Flynn was able to win a national title at LSU, while winning the offensive MVP in 2008.
What all of this means to you, is that I do expect Flynn to have significant value this season. He's likely one of the most underrated fantasy QBs coming into this year. In my opinion, Flynn is going to be better than Palmer was last season. Matt has some high upside receivers in Moore, Streater, Ford and now Josh Cribbs. In addition, he's got great poise. Regardless of some mistakes he's made on the Pro level (notably taking the sack to lose the game in the aforementioned NE game), he will shine in his first full season under center. He's a guy you could take in late rounds and that will pay big dividends in deeper leagues. He's not a part of our staff top 25 QB rankings, I believe he should be.
3) Can Rod Streater push Denarius Moore for the #1 WR job?

This time I won't make you wait too long. The answer, in short, is yes. I believe in Streater a great deal. There are various reasons why I think he's got what it takes to make an impact. First, Streater has good size at 6' 3". That's three inches taller than Moore. He will be able to throw it up during times when Streater is covered by a smaller DB, and let him just try and go get it. Secondly, Matt Flynn is widely criticized for having a lack of arm strength. After watching Flynn in action, Ron Jaworski said on NFL Live, "I was concerned that his few deep balls lost energy at the back end. They had a tendency to die." This doesn't mean that Flynn can't be an effective NFL quarterback; it just means that he'll need to throw shorter routes and be accurate in order to reach his full potential. This would seem to favor Streater, as Moore is a speedy WR that likes to create space and catch deep passes. If Flynn can't throw those balls, then he'll need to look to Streater who is likely to stay closer to the line of scrimmage.
Streater only hauled in 39 receptions last year for 584 yards and 3 TDs, but he had some solid games. In the last 5 games of the year, he had a total of 351 yards. If he could match those numbers over a full season, he'd surely go for 1,000+ yards. I believe that this is not out of the question. Streater has been impressive thus far in camp, getting praise for his reliability and versatility, while Moore is anything but. Considering Flynn's skill set, it's only natural that Streater would be the go-to WR. If that's the case, he's going to be a steal on draft day. He's not even being drafted in 10 and 12 leagues and is going as WR70 in 14 teamers. Look for that to change as he gets more looks in the preseason and people start to catch on.
There are questions that need to be answered here, such as, how effective will the Oakland TEs be, and which receiver will Flynn be more comfortable with. He doesn't yet make our top 50 WR rankings, however, with the right set of circumstances in his favor, Streater has a good shot to be the team's best wide receiver.
This could be the year that the Raiders finally compete. After all of the seasons prior, filled with heartache and disappointment, this very well may be the perfect storm here in the AFC West for Oakland to make a mark.
Follow us on Twitter @Tweeteachisown and @TopTeamFantasy to get the latest fantasy news and advice.