By J.D. Redemann
This article is part of our 2013 Fantasy Team Preview series in which we are profiling every NFL team leading up to the season, click here for the complete list of published previews. Also, check out our staff rankings for see how we value each player.
What an astounding season 2012 was for Seattle. QB Russell "Mighty Mite" Wilson, the 5'10″ third-round selection out of Wisconsin, surpassed everyone's expectations and delivered near top-10 fantasy production in his rookie season (though he was overshadowed by fellow rookie QB's Robert Griffin III and Andrew Luck), and led the Seahawks along with their vaunted "Legion of Boom" defensive unit to an 11-5 record and a playoff berth. That included a trip to the NFC divisional round, where they very nearly knocked off the #1 seed Falcons, had a field goal not won the game for their southern cousins. This is a team that NFL experts (and Vegas) across the board have pegged as a favorite to contend for the Super Bowl this year, due to a dynamic offense and an elite shutdown defense.
But the Seahawks are running a somewhat traditional game, as they led the league in rushing and were dead last in passing, with a secondary that looks like they got lessons from Dick "Night Train" Lane in how to cover receivers. This is a gritty, hard-nosed team that grinds out results, but how much more can they improve this year? Their now-sophomore quarterback says he hopes to improve on his already-stellar completion percentage, and it's clear they'll want to stretch the field more after their recent offseason addition. So what can we expect from the Seabags this season in fantasy? Will rise as high as Pike Place Market's 'flying salmon', or will they sink to the bottom of the Puget Sound? Let's see!
Roster Moves
Added: QB Brady Quinn, WR Percy Harvin, WR Brett Swain, DT Tony McDaniel, DE Michael Bennett, DE Cliff Avril, CB Antoine Winfield, CB/KR Will Blackmon
Drafted: RB Christine Michael, DT Jordan Hill, WR Chris Harper, DT Jesse Williams, CB Tharold Simon, TE Luke Wilson, RB Spencer Ware, G Ryan Seymour, LB Ty Powell, DT Jared Smith, OT Michael Bowie
Lost: QB Matt Flynn, RB/KR Leon Washington, G Frank Omiyale, DT Alan Branch, LB Leroy Hill, CB Marcus Trufant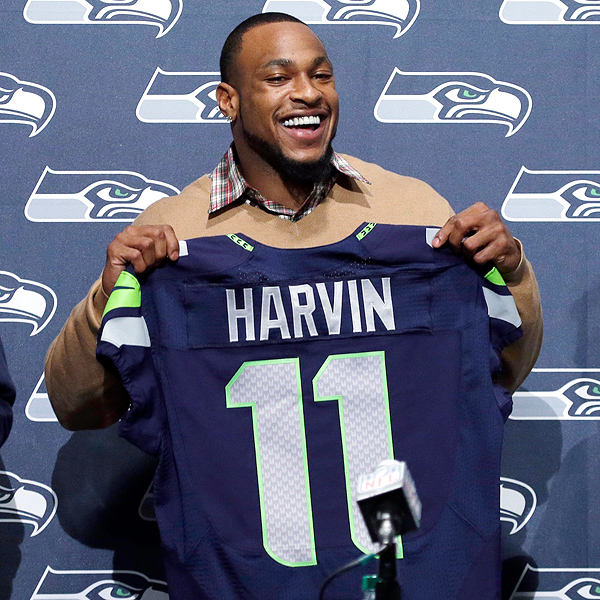 Not a lot happened to the 'Hawks in the draft this year, as they traded down a lot of their picks to receive either a stockpile of 7th round selections, future picks, and particularly the biggest prize of their offseason haul, WR Percy Harvin. Harvin, coming from Minnesota in a trade, will slot right into this dynamic and unpredictable offense as one of the biggest weapons available to second-year QB Russell Wilson. With Harvin and a more experienced signal-caller, expect Seattle to throw a heck of a lot more than they did last year (ranked 32nd in passing attempts in 2012). Harvin will also likely feature as a runner and returned at points, as he did in Minnesota, adding to the already-expected receiver fantasy value. Other than the gain of Harvin, not a lot was added to this team. Main returner RB Leon Washington departed via free agency, but WR Golden Tate looks to step into that role immediately, spelled occasionally by Harvin. The defense might take a small step backward this season, with the departures of starters DT Alan Branch, LB Leroy Hill, and CB Marcus Trufant, as well as suspensions for PED usage (I'll discuss this more in BQ #3). Still, the additions of big pass rushers DE Cliff Avril and DE Michael Bennett may negate the loss in the front 7, and actually help this Seahawks D/ST pressure offenses better than their predecessors. CB Antoine Winfield should be a positive physical presence in the slot to improve upon Trufant's league-average performance last season (according to Advanced NFL Stats' Win Probability Added rating for cornerbacks).
Highlight Players

One Up: Russell Wilson, QB – It is impossible for me to overstate my love for Russell Wilson, as both a Badgers fan and a fantasy owner. I believe that head coach Pete Carroll knows the weapon he has in Russell Wilson, and after giving him a year to grow and begin to learn the league, he will release the reins even more on his franchise QB. With an improved receiving corps, too, Wilson becomes more and more of a high-upside play, utilizing his new offensive toy in Percy Harvin and stretching the field vertically quite a bit more. But I'm not one to take a lot of unnecessary chances in fantasy drafts, and would rather draft safe guys. So why do I love a high upside guy? He's safe too!
It's been proven that rushing production sustains from year-to-year much more than receiving/passing production, and therefore a quarterback with the athletic ability to run (and an offense designed to give them rushing opportunities) will have a more secure year-to-year production than others might. Granted, rushing QB's like Michael Vick or RG3 are also injury risks, but Wilson is much smarter about sliding in the open field to avoid unnecessary tackles and is much more sturdily built than his lightweight colleagues. I have no concerns about his health, and therefore, his abilities put him at QB #6 for me, though he could be in the top-5 by the end of the season.
One Down: Percy Harvin, WR – This is going to seem odd, as our recent rankings post has me with Harvin inside my top 10 wide receivers, ahead of clear studs like Roddy White, Andre Johnson, and even Randall Cobb. Let me make this clear, though: that ranking only applies if he's healthy. With a legitimate QB throwing him the ball, Harvin has the potential to have the biggest year of his career, but by drafting him you accept the fact that every week he will have a little red 'Q' next to his name (if he's not on the IR, of course). I'll tell you right now: I am going to be dropping him in our rankings updates for training camp because, again, the lingering health issues scare me. Two years ago it was migraines. Last year it was an ankle sprain. Now in this year's OTA's, he already has a hip flexor issue. This is where I draw the line on upside. In only 8 games last year (tossing out Week 9 vs. SEA, no less, where he was injured), he scored 98 fantasy points for an average of 12 points per week. That's great production from a wide receiver, and that upside is what makes him valuable, but he is not going to be on the field for a full season, and he'll always be 'probable' at best, 'doubtful' at worst. There's too much hair-pulling and nail-biting in owning Harvin for me to recommend him to you. He's just not top-10 value to me with all those question marks.
Burning Questions!
1. How much better can Russell Wilson be?

I mentioned before that I love Wilson for a number of reasons, the main one being that he is a rare "high-upside-but-safe" fantasy player. So, let's do like poet Elizabeth Barrett Browning and put some numbers to that adoration: "How do I love thee? Let me count the ways." Wilson tallied an already excellent 64.1% completion percentage in his rookie campaign, as well as a 26:10 touchdown-to-interception ratio. That is an extreme amount of control and accuracy for a young player, but Wilson clearly has the ability to execute plays well and consistently. In fact, his Total QB Rating (a composite number to rate all-around QB's, more accurate than passer rating) from last season puts him easily in the top-10 and just ahead of the Saints' Drew Brees. His production will be sustainable because, like I mentioned earlier, his rushing buoys his value; his expected points added (EPA) from rushing last year was second in the league behind Cam Newton.
I'm telling you, this is a guy who can get it done all over the place, and he will be even better this year. With less than 400 passing attempts last year, Wilson threw for 3,118 yards. I would be willing to wager he throws at least 75 more attempts than last year, and just assuming he sustains a 64.1% completion percentage, that would total 3,750 passing yards. Modify his touchdowns by a similar rate, and you have 31 passing TD's. Add in even just what he did last year on the ground (489 yards, 4 TD's), and you have 347 fantasy points, a total that would have been the highest scoring fantasy QB in 2012! That is well within his reach, as he has new versatile weapons in the passing game to stretch the field with, and he may even increase his completion percentage. The sky's the limit for Wilson, so draft feel free to wait after the big names are gone (he's currently going in the 8th round) and reap the rewards!

2. Just reaching the age for running back decline (age 27), can Marshawn Lynch still carry the load?
I have no fears about Lynch's age. I have a few fears about him besides age, but most of these only pertain to long-term (but they're on my mind, as I'm involved in a 16-team, 35-man roster dynasty draft right now). I'll tell you right up front: Marshawn Lynch is an out-and-out stud for fantasy purposes. He is his own goal-line back, having scored 23 TD's in two years as a Seahawks starter. He is an every-down back, regardless of his below-average pass-catching ability, having caught 51 balls thrown his way in his past two seasons combined. He gets the carries of one of the most secure lead back positions in the league (played 66% of offensive snaps in 2012) in the most run-heavy team in the NFL, and it's not as though he simply gets his yardage through volume. In his two seasons as a starter, Lynch has averaged 4.67 yards per carry. That's unreal. UNREAL. Russell Wilson will likely pass more this season, it's true, and due to Lynch's violent running style and his history with off-the-field issues, he's a bit worrisome for a few years down the road. If you draft him, be aware of his recurring back issues, because he may turn up as 'questionable' some weeks. However, this year his job and production is about as secure as it could be for any player at this physically taxing position. Robert Turbin and Christine Michael are merely students right now, and Lynch is the master. I have him as my #3 RB. Do not sleep on Lynch in this high-powered, grind-'em-out offense.
3. Is the PED outbreak in Seattle a cause for concern in fantasy? What's the impact?
It's sad to say, but I do believe the Roger Goodell's "Justice League" could do in the "Legion of Boom" this year (yes, I wanted a cheap way of getting another video of Kam Chancellor plastering a guy into this article). Second-year DE Bruce Irvin, S Winston Guy, and CB Richard Sherman all tested positive for banned substances, but Sherman had his suspension overturned on a chain-of-custody appeal. Still, the loss of one of the top young pass-rushers on this team in Irvin (and the loss of team sacks leader LB Chris Clemons to injury) is a major, major blow to this team, and the blowback of scandal could disrupt mildly what was by far the most locked in defense in the league last year. Apparently head coach Pete Carroll saw all of this coming, however, and signed pass rushers DE Cliff Avril and Michael Bennett and physical slot CB Antoine Winfield to bolster his defense. The secondary will be physically fine and the pass rush may actually improve from last season once Irvin and Clemons return, but one can never measure the intangible effect of scandals like this on the players' minds and team chemistry; I have to imagine it sets them back only a mild amount. The best defense in the league is looking a little less like a black hole for opposing offenses, though they'll still be near-elite. I have the Seahawks as my #3 D/ST unit. This is a very fluid ranking though, and I'd pay attention (Adderall joke) to it as the preseason churns along.
All in all, the 'Hawks look ready to win their first Lombardi Trophy ever, with a very balanced, very dangerous, and very hungry team. I believe in Russell Wilson, and expect him to have a monster year!
Follow us on Twitter @JR_TopTeam and @TopTeamFantasy to get the latest fantasy news and advice.