By J.D. Redemann
"'All we know is that we know nothing'…"
"That's us, dude!"
-Bill S. Preston, Esq. & Ted Theodore Logan
The details have been lost in the winding annals of history, but most scholars maintain that the great Greek philosopher Socrates was, indeed, referring to fantasy football when he spoke the sage words above. Though the game has changed greatly in the two millennia since "The Most Bodacious Philosophizer" walked the earth, you might be surprised at how well the famous thinker's maxim still applies to your draft strategy in 2013. Even the best and most objective of us unconditionally still believe outdated ideas when it comes to fantasy football, ideas like:
"Once a running back hits age 30, they're done for."
"Running quarterbacks will get continually injured, and won't be consistent yearly."
"Rookie tight ends will never contribute."
But perhaps the most misleading of these too-broad notions is the idea of the "third-year wide receiver breakout". Basically, the story goes like this: in a receiver's rookie season, they're getting up to speed with the rest of the league, learning the offensive schemes, and generally getting acclimated. In Year 2, they're making adjustments to defenses figuring them out, making breakthroughs and having regressions. But Year 3 is the point in which they mentally figure out how to break defenses wide open, their physical tools have matured, and they finally gel with their team, which leads to a monster increase in fantasy production.
The question is, how often have we really looked at the numbers and tested that theory? We tend to just assume that Stevie Johnson's 2010 smash hit was proof enough that the idea is true. Others will cite Dwayne Bowe's final numbers in the year prior as evidence that it's just a bunch of mumbo-jumbo. Again, all we truly know about this theory "is that we know nothing". So this is where you and I, dear reader, must jump into our time-traveling phone booth and dig deeper into the oddities of history (and by that I mean past WR draft classes). The hypothesis I have been working to test is this: There is no true "third-year wide receiver breakout", and, in fact, WR breakouts are due mainly to experience on the playing field (i.e. snaps, targets, etc.). I broke that down into these questions:
Is the magical year 3 a real phenomenon for wide receivers?
If not, where do receivers truly take a step forward in fantasy production?
What indicators are helpful for predicting a significant breakout season?
My methodology is fairly simple. I decided to examine the first 5 years of a wide receiver's career, arguably the span of time in which a young wide receiver could truly break out due to some leap forward in skills or mental attitude (ruling out later breakouts due to scheme changes or transitions to playing with better quarterbacks). This meant that I needed five years of data for each player I looked at, so I took the last ten eligible years of WR draft classes (1999-2008). In addition, to eliminate sample skewing by players who never became very good fantasy players (like Pierre Garçon), I set a threshold for 450 fantasy points scored in their first five seasons in the NFL, and at least two consecutive seasons of 120+ fantasy point production to eliminate "one-year wonder" players (i.e. Braylon Edwards).
I came up with 26 players selected in the NFL Draft between 1999 and 2008, and each of them is a player that one would easily consider a top-25 WR at the point of their breakout. I averaged all of the players' first five seasons to see if there was a logical trend in career progression. I had a suspicion that the breakout idea would prove more fiction than fact, but the data is startlingly clear in how it supports my hypothesis. Below, you see the hypothetical average receiver's career progression from Y1 to Y5, represented both in fantasy points and number of plays per year (with the percentage of increase from the prior year next to each column).
| | F-PTS | Change % | PLAYS | Change % |
| --- | --- | --- | --- | --- |
| Year 1 | 80.66 | 0.00% | 78.92 | 0.00% |
| Year 2 | 123.74 | 53.42% | 105.54 | 33.72% |
| Year 3 | 137.65 | 11.24% | 123.35 | 16.87% |
| Year 4 | 149.36 | 8.51% | 128.42 | 4.12% |
| Year 5 | 154.58 | 3.50% | 127.81 | -0.48% |
Clearly, if we were to draw broad generalizations about when a player breaks out, they are much more likely to have a significant increase in value from Year 1 to Year 2 (53.42% fantasy point increase) than Year 2 to Year 3 (11.24%) or any other year for that matter. So, does that mean I am recommending now that the sleeper WR's you target should only be 2nd-year receivers? Not at all, my fellow 'philosophizers'. Clearly, though, the myth of the 3rd-year WR is busted, so we must figure out how to pinpoint breakouts waiting to happen.
This is the reason I have included the second statistical category: I believe that when players received greater playing time experience, they were able to acclimate to the game faster and therefore put up better fantasy production. It may seem common sense to say "The more a player played in his first season, the better his second year will be", but I wanted to also break down where exactly that threshold of fantasy enlightenment falls. In an ideal world, I would have access to a database that holds records of snap counts for each and every player for the last decade and a half, in which case I could see exactly how frequently a player was on the field and how many of those instances they were running routes. That, to me, is clearly the best indicator of practical experience, but we mere mortals I don't have access to that info yet (that will be for a future article).
I did, however, compile each of the receivers' plays totals (targets plus rushing attempts) for their first five seasons as well, as an indicator of experience and playing time contributing to fantasy production. As you can tell by the chart, the greatest increase in plays utilized also occurred between Year 1 and Year 2 (33.72%), double the increase between Year 2 and Year 3 (16.87%), indicating that the player was learning well enough and gaining chemistry to be trusted with use in an expanded offensive role. One counterpoint may be that because a rookie receiver got utilized less in his first season, the fantasy points earned are skewed to favor that first transition; due only to increased workload, fantasy point totals go up. However, if we also compare the changes of the two rates, the fantasy point increase from Year 1 to Year 2 was 20% higher than the workload increase, whereas the workload increase actually outstrips the point increase by 5% in the transition from Year 2 to Year 3. Clearly, though the chart does show annual progression of value for players, somewhere around a player's sophomore season is when they make the largest leap forward in terms of skill and ability.
Now, the bar to clear to be a top-25 WR last season was 123 points. Arguably, that's even a bit high because the high-volume passing nature of the NFL has changed so drastically since even five years ago, let alone 1999. However, we'll set our "breakout threshold" at 123 fantasy points for easy reference. How convenient that the average Y2 fantasy point total falls at 123! So, what we can assume is that a breakout occurs somewhere after the playing experience of Y1 but before the final total of Y2, giving us a range of 79-185 career plays. The average benchmark of experience most players have the year before they truly break out falls around 104 career plays. Now, your magic number of 104 plays is just a guideline. There could obviously be guys who break out after that point or before it.
The best examples of this 104-play threshold from my data are:
Calvin Johnson (2007: 99 plays, 99.6 fpts.; 2008: 153 plays, 205.1 fpts.)
Santonio Holmes (2006: 87 plays, 94.4 fpts.; 2007: 90 plays, 142.2 fpts.)
Greg Jennings (2006: 105 plays, 81.2 fpts.; 2007: 84 plays, 164 fpts.)
Reggie Wayne (2001: 49 plays, 34.5 fpts.; 2002: 72 plays, 95.6 fpts.; 2003: 107 plays, 125.8 fpts.)
Torry Holt (1999: 100 plays, 114.8 fpts.; 2000: 141 plays, 199.5 fpts.)
So, there are a few things to bear in mind when looking for a sleeper breakout WR for your drafts this year. The first is that their amount of service time in the NFL has little-to-no bearing on whether or not they will break out this season. The second is that prior experience matters, because even elite talents have to get acclimated to the speed of the league. The third point to take away is that while experience certainly factors into a player's readiness to explode onto the fantasy scene, you also need to be very aware of increased opportunity for players. None of these players would have progressed the way they did had their targets not risen along with their skill level. For instance, Calvin Johnson could have increased his fantasy points per play utilized (FPP) from 2007 to 2008 (1.00 FPP to 1.34), but if his plays utilized remained at the same level (99), he would have just barely skated over the top-25 threshold, rather than breaking out in the big way he did. It seems that the more targets and exposure these receivers got early on, the more comfortable their quarterbacks and offensive coordinators became with utilizing them in increased roles. The short way of saying this is: look for players whose playing time is trending upward. The other important point to take away from this is that these players on this list are very talented players. No player will ever "break out" based solely on their time in the league, career plays utilized, or any other measure if they simply don't have the talent to do so. All this research is intended to do is guide you toward the players that have the best chance to break out in any given season.
All those caveats aside, I know that you clicked on this article to get a list of WR's that I expect to break out in 2013 (bear in mind, this excepts players who have already broken into 123-pt. seasons like Randall Cobb or Torrey Smith). So, with the boring history parts out of the way, let's get to the real fun of this project. "Hello, San Dimas! It's time for the final report of the afternoon!" In their 2013 World Tour…
Chris Givens, STL (2nd year, 81 career plays): Givens was used only as a straight-ahead burner last year, and it showed on his final stat line: he had five games in a row with a 50+ yard reception. This year, the Rams figure to repackage him and use his incredible speed both as a downfield threat and a catch-and-run weapon. Bradford is progressing as a passer finally, and this offense could be potent in 2013.  Breakout Potential: 3/5 Ziggy Piggies
Josh Gordon, CLE (2nd year, 96 career plays): I'm not being original by saying Gordon will break out in a big way this year, but what do you want from me? The numbers don't lie. Gordon racked up 110 fantasy points last year on only 96 plays utilized. I don't care that he'll be suspended for two games, because in a vertical offense where his speed can really be utilized to its fullest, he's going to see his TD's go up from 5 and the volume of his targets upon return bump up too. Let's hope QB Brandon Weeden can get him the ball.  Breakout Potential: 4/5 Ziggy Piggies
Kendall Wright, TEN (2nd year, 105 career plays): This guy is going to be my Titanic; I am going to either sink or swim this fantasy season based on how much I've been touting him. 104 targets in his rookie season, Wright is already a high volume slot receiver. The question is, can he do more with them than 2012′s 9.8 YPC showed? At Baylor, he was a major burner, and it's not as though he'll be ignored in favor of aging Nate Washington. Wright will improve this year, because Locker will improve this year. And even if Locker doesn't improve, they'll go to Fitzpatrick who loves his slot guys (see the career path of Johnson, Stevie).  Breakout Potential: 5/5 Ziggy Piggies
Jon Baldwin, SF (3rd year, 99 career plays): The other Baldwin brother (no actual relation) has been another forgotten face on his team. When your QB is Matt Cassel/Tyler Palko/Tyler Thigpen, there's not a lot of targets to go around, and the ones that do make it out of the pocket normally are headed to former teammate Dwayne Bowe. But the Chiefs swapped Baldwin to San Francisco, which puts him in a situation with no true #1 WR and a cannon-armed Colin Kaepernick calling the shots. Baldwin got on the field more often last year than 2011, and his YPC skyrocketed. He could be a nice waiver wire pickup or late-round flier for 2013. Breakout Potential: 2/5 Ziggy Piggies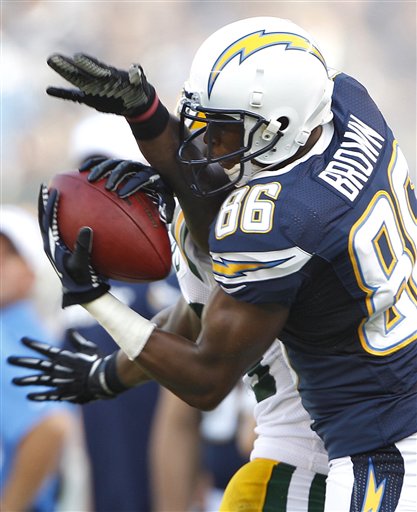 Vincent Brown, SD (3rd year, 41 career plays): This one I'm pegging purely on talent and what he's made of opportunity when healthy. Brown missed all of last year with a left ankle fracture, but in his rookie campaign he posted a 17.1 YPC and a solid 4.2 average YAC. Had he played even an identical season to last year, he would have been at 81 career plays utilized, putting him into our threshold range. Now with only Robert Meachem and Malcom Floyd standing in his way after severe injuries to the other receivers, Brown has a gaping wide opportunity to produce a lot of value.  Breakout Potential: 3/5 Ziggy Piggies
Leonard Hankerson, WAS (3rd year, 82 career plays): Hankerson seems to fit the mold that this research describes perfectly… For a Year 4 breakout receiver. He came on last season, improving his fantasy point total by 350%, and his plays also tripled in that time. He just hasn't seen enough time on the field yet to really wing it with talent, especially because he has no chemistry yet with his young QB. Don't expect him to go off this year, but he should take a step forward, especially if RG3 is healthy. Breakout Potential: 1/5 Ziggy Piggies
Dexter McCluster, KC (4th year, 140 career plays): It's hard to be optimistic about the Chiefs, but as I am cautiously so with Jon Baldwin, so am I with McCluster. As a versatile RB/WR, Dex has never found a proper role in the KC offense. Andy Reid loves players like him, though, and could use him all over the field in a variety of ways. Opportunity is there, talent has always been; let's see if he makes the most of it.  Breakout Potential: 2/5 Ziggy Piggies
Emmanuel Sanders, PIT (4th year, 166 career plays): This is another clear case of a talented player who has been smothered by depth chart and scheme issues. After only 50 receptions in his first two years combined, Sanders grabbed 44 last year and rocked with them. The Steelers' conversion to a quick-fire West Coast Offense can only benefit the explosive and shifty Sanders. If he can catch Big Ben's eye this year, Ben will go to him consistently as a reliable over-the-middle option. Breakout Potential: 3/5 Ziggy Piggies
Golden Tate, SEA (4th year, 164 career plays): Two years of next-to-no production for the fantasy world saw Tate rack up an interesting, but not really usable, 111 points in 2012. This year, Tate figures to be the #2 receiver in a growing offense with Russell Wilson at the helm, and the man standing in front of him (Sidney Rice) may be struggling with knee problems. I don't believe in the contract year narrative, but everything else is seeming to align here. Breakout Potential: 4/5 Ziggy Piggies
Some players who others are touting that I have reservations on are:
Alshon Jeffery, CHI: Only 48 plays in 10 games last season, and a lot of offensive penalties. I worry that he hasn't seen enough of the field to know the game yet, especially in a new offense, and one where the QB has a history of bad ball placement.
Denarius Moore, OAK: He's been on the field a lot. He's gotten 197 plays over the past two years, so it's not like he hasn't gotten chances. He's just not proven focused enough in his play to make the most of them, even with an average to above QB in Carson Palmer. Now he either gets Matt Flynn, Terrell Pryor, or Tyler Wilson throwing him the ball. Not good chances.
Greg Little, CLE: His usage is trending downward since Year 1 (124 plays in 2011, 93 in 2012), and he's been less effective as he's gone on. His 217 plays utilized is well beyond our range for breakout candidates, as he's had to shoulder a heavy workload on a bad team. I don't know if last year's case of the "Dropsy" was anything less than a lack of focus and maybe talent. Glaring indicators say he may never truly break through.
We can never truly see the future, we can just hope to poke and prod at the mysteries that it holds. I hope this offers some insight into your WR's for 2013, but if you take nothing else away from this article about fantasy football, the best advice I can give you is "Be excellent to each other. And party on, dudes!"
Follow us on Twitter @JR_TopTeam and @TopTeamFantasy to get the latest fantasy news and advice.