By Jonathan Vandersluis (@Jonathan_TTF)
If you're anything like me, fantasy football isn't just a game. It's a passion and one that for more than half the year, your life revolves around it. So if you're still sitting here in Week 16, it's not a fluke, it's due to hours and hours of research, trade negotiations, planning and sure, a little bit of luck. So for that I say congratulations, whatever happens this week, making it to the championship is quite an accomplishment. However, again if you're anything like me, just making it to the dance isn't enough. It's time to bring home that title.
Seeing as the season is coming to a close, before I commence with the fantasy advice, I just want to send out my deepest appreciation for all the support this year. As many of you know, I started TopTeamFantasy about a year and a half ago, we've since grown to an amazing staff of 14 and have had countless successes. However, I know that none of this would have been possible without readers like you. Whether this is your first article reading on our site or you're a frequent guest, I just want to say thank you. I hope you guys enjoyed this year as much as I did and I look forward to exciting changes that will help take the site to new heights in the new year!
With all that mushy stuff out of the way, let's get to what you all came here for: Fantasy football championship advice! Now, to get to the championship game you most likely have a pretty awesome roster, but that doesn't mean you don't have any tough decisions ahead of you. In this article, I'm going to look at a couple tough decisions facing your team's QB position.
This week is an incredibly tough one for QBs highlighted by two of the best in the league, Drew Brees and Cam Newton, facing each other in Carolina. I'm sure by now you're all familiar with the mantra, "Start Your Studs!". Well, I have another one for you, "Go Big or Go Home!". If you want to bring home the fantasy championship, sometimes you have to make tough decisions. You can play it safe and stick with your studs even in a very tough matchup when all the evidence points otherwise or you can play to win and start the players that give you the best chance to do so. (Note: All stats are taken from ESPN.)
Let's talk first about why you shouldn't be so excited about starting Drew Brees or Cam Newton, the #2 and #3 QBs on the year. I'm going to start off with the easier one: Former Super Bowl MVP and two time offensive player of the year Drew Brees.
For the second time in three weeks, Brees is matched up against the impressive Carolina Panthers defense. I know what you're going to say, Brees torched the Panthers for 313 yards and 4 TD the first time around, but there's one big difference: The game is in Carolina. The Saints are an elite team in the confines of the Superdome. At home, the Saints are an undefeated juggernaut, averaging almost 33 points and outscoring opponents by a ridiculous 17.4 points per game. On the road? Completely different story. Three wins and four losses, averaging only 18.4 points per game and have lost to a pair of 6-8 teams in the Jets and Rams.
As you would expect, the home/road split has translated to below average fantasy stats for Drew Brees:
Home: 73.2% completion for 2348 yards, 23 TD, 3 INT –> 27.5 fantasy points
Road: 63.4% completion for 1961 yards, 11 TD, 7 INT –> 16.4 fantasy points
Now consider that the Saints have faced the pass defenses of MIA, SF and CAR (3 of the top 5 pass defenses in the NFL) all at the Superdome and the stark difference between the home and road performance is even more alarming. Now couple that with the fact that the Panthers have been allowing QBs to average only 8.4 fantasy points per game at home and you are looking at a very tough game for Brees.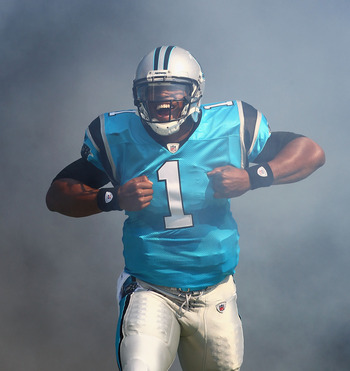 Cam Newton is a little bit more of a challenging case. He struggled in New Orleans just two weeks ago throwing for only 160 yards and 1 TD for 15.2 fantasy points, his second lowest effort in his last 8 games. One could argue that Cam being on the road also was a major factor, but his home/road splits aren't nearly as drastic (20.7 vs 17.6) for those for Brees. The more telling stat for Cam Newton this year is matchups based.
Cam has had four games against teams that in the top 10 in most fantasy points allowed to QBs (MIN, ATL and TB twice). In those four games, he's averaging 26 fantasy points per game. Similarly, he's had four games vs. teams in the top 5 of fantasy points allowed to QBs (SEA, SF, MIA and NO), games in which his output has plummeted to an average of 13.6 fantasy points per game, essentially half what he's done in plus matchups. Sure it's a small sample size, but Cam hasn't the same player when playing against tough defenses.
Now I'm not saying that both Cam and Brees are unstartable, these are the elite fantasy QBs in the NFL. They are still both in my top 7 this week, I'm just saying that you should temper expectations and if available, there are two QBs that I would definitely be starting over them: Nick Foles and Jay Cutler.
The Bears are going to Philly for what is expected to be the highest scoring game of the week with an over/under of 55.5 points as quoted from popular Sports Betting site SportsBettingOnline.ag. It features two high powered offenses that have just been rolling lately and are locked in a battle for the #3 seed in the NFC.
Nick Foles is the hottest QB in the league. Since Week 9, his averaging 27.9 fantasy points per game, is the second best 6 game stretch of any QB this season (Peyton Manning's Week 1-6 was marginally better 28.1). He has had the benefit of facing a bunch of cake defenses but don't forget that in that span he also faced Detroit in a blizzard and a very tough Arizona defense (prior to them having lost Honey Badger). I'm not going to go into a lot of detail on him, since he's the consensus #2 QB this week around the industry, but if you have him now is the time to bench any QB not named Peyton. The Bears are a brutal defense and even though they have been mostly gashed via the run (McCoy will lead many teams to championships as well), the Bears will score enough that Foles will continue to throw and rack up the fantasy points.
Jay Cutler is another QB I love in Week 16. The guy is sitting 24th in QB scoring on the year behind Geno Smith and Eli Manning) and was outplayed by backup Josh McCown when Cutler went down to injury, so it's easy to get overlooked. However, Let's look at Cutler's stats in games in which he's played the whole game: 271 passing yards, 2.1 passing TDs, 1.7 turnovers. Listen, Cutler has always been and always will be a gunslinger, the turnovers will happen. But those stats I just listed for you: those translate to 18.3 fantasy points per game. Now give him the Eagles defense who have allowed the 6th most fantasy points to opposing QBs? That's a recipe for fantasy goodness.
The Bears have the best offensive weapons of any team in the NFL (except for maybe the Broncos) with Matt Forte, Brandon Marshall, Alshon Jeffery and Martellus Bennett, and they help make up for a lot of mistakes (case in point this amazing catch by Alshon Jeffery). The one thing we do know is that Trestman's offense will continue to throw (Bears are 5th in passing yards, 3rd in passing TDs) and as a result, Cutler is a much safer option than you may think.
When you're season is on the line, make sure you know all the facts. Make sure to give yourself the best opportunity for success, and not just play someone because they are a "stud". This week, that the guys that give you the best chance to win are Nick Foles and Jay Cutler. Those are the facts, the numbers don't lie!
For other lineup questions, feel free to check out my Week 16 rankings and I'll be glad to answer any and all questions on Twitter @Jonathan_TTF.
At TopTeamFantasy, we provide Fantasy sports advice without charging you a cent. If you enjoyed this article, consider giving back to help us stay in business.