By: Russell Shaffer
How 'bout them Cowboys?
I think the honest answer to that question after two weeks is "who knows?". America's Team (are they, really?) excited fans in Week 1 with a primetime offensive explosion before being vanquished in Week 2 by a familiar foe in an unfamiliar setting using unorthodox methods. Andy Reid looked…um…let's just say he looked different in his bright red Chiefs garb and looked vastly different in employing – of all things – defense to shut down the Dallas attack. I won't waste space below on a D/ST in Week 2, but the Kansas City squad has some playmakers and could be a sneaky pickup for the remainder of the season (just not in Week 3 for a Thursday night showdown with Reid's former Philadelphia club in a matchup that could be a shootout).
Peyton Manning came back to earth (how could he not?) as he tossed just 2 TD in predictably winning the overhyped (and frankly not that closely contested) Manning Bowl III. Meanwhile baby brother Eli Manning is trying his best to keep up with big brother. Problem is someone needs to tell Eli that INT don't count the same as TD.
Then there was the shocker of the week in which a once elite QB rushed east with teammates to overtake Week 1's suddenly trendy Super Bowl pick while also continuing to regally resurrect the career of one of his long-forgotten WR in the process. And those two not-so-subtly placed puns foreshadow where we'll get started with Week 2's Wire Tapping.
Philip Rivers (San Diego Chargers, QB – 39% Yahoo, 33% ESPN): Philip Rivers, welcome back to relevance! After a two-year hiatus from the fantasy radar, it appears the former perennial top 10 QB is again in the conversation. Okay, I'm not going to get too carried away but you have to like what you've seen so far from Rivers. He looks comfortable and decisive in new Head Coach Mike McCoy's quick-hitting offense, and has two great weapons for such an attack in a healthy Antonio Gates and slippery Danny Woodhead. Don't forget McCoy was the man in Denver who turned Tim Tebow into a marginally effective NFL QB, so who knows what he could do with an infinitely more talented Rivers. His 419 yards Sunday against an admittedly dismal Philly defense gives him 614 for the young season and a pace for 4,900. He also has tossed 7 TD, and more importantly just 1 INT. He's completing a blistering 65.7% of his throws and gets a Tennessee club Sunday that got victimized at times this week by Houston. I'm back on Rivers in a big way as I've got him ranked #13 in my Week 3 QB rankings that will come out later this week with the rest of the TopTeamFantasy staff. If you find yourself needing a QB, Rivers should b your top waiver wire target.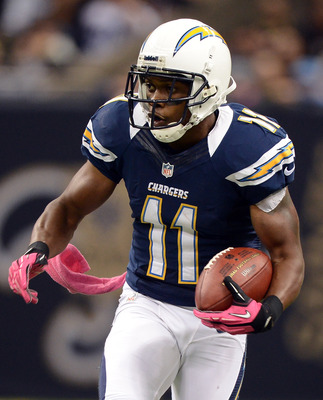 Eddie Royal (San Diego Chargers, WR – 20% Yahoo, 15% ESPN): The primary beneficiary of Rivers' resurgence has to be Royal, who's emerged from the scrap heap to look bound to break Randy Moss' single-season receiving TD record. Royal hauled in 3 more TD Sunday to give him 5 for the year and a pace for 40. He's certainly not getting there, and I'm not sure he even gets 25% of that by season's end. Consider that Royal has just 10 catches for an ordinary 114 yards – that's an unsustainable 1:2 TD per reception rate. Those with long memories might recall seeing a start like this from Royal before, albeit without quite so many TD. He broke on the scene in Week 1 of his 2008 rookie year with 9 catches for 146 yards and a TD. He finished that rookie year with 91 catches for 980 yards and 5 TD and appeared to be a star-in-the-making for years to come. But injuries and inconsistency have plagued him since then, and his first year thus far has been his best year. That's not to say I'm down on Royal – I think he's definitely worth a waiver claim this week. But chances are he's already nabbed the majority of his TD for the year, and with Malcolm Floyd likely to miss time in an already thin San Diego receiving corps that means Royal will get a lot more attention from defenses. Make a run at Royal if you need help at WR, but don't be bummed if you miss out – he's more likely to play like a WR4 the rest of the way than a WR1.
James Starks (Green Bay Packers, RB – 11% Yahoo, 3% ESPN): If you can't beat them, maim them. That seemed to be the approach Washington S Brandon Meriweather used in delivering a vicious helmet-to-helmet hit after Green Bay's Eddie Lacy ripped off a 10-yard run on his first carry of Sunday's game. The brutal collision left Lacy concussed and opened up an opportunity for the veteran Starks to get a crack at the porous Washington defense. All Starks did was post one of the NFL's best Week 2 performances with 168 total scrimmage yards (4 catches, 36 yards and 20 carries, 132 yards) with a rushing TD. It was an impressive output, but must be somewhat discounted as it came against an atrocious unit that has now allowed more than 200 rushing yards per game after getting gashed in Week 1 by LeSean McCoy and company. That's meant to underscore that while Starks had success Sunday and has been effective in the past, he's a pedestrian NFL RB at best. And if Lacy is healthy he's a backup who's not likely to see many snaps. But that's a big if as Lacy's status was still unknown at the time of this writing, and the severity of the hit he sustained leads me to wonder if a team with a red-hot Aaron Rodgers would chance the long-term investment it has made in Lacy. The eventual return of Lacy and a tough matchup Sunday against Cincinnati add up to me not spending my top waiver claim on Starks unless I need to handcuff Lacy or if I'm getting nothing at RB from the likes of David Wilson, Maurice Jones-Drew, Stephen Jackson, Frank Gore and others.
DeAndre Hopkins (Houston Texans, WR – 49% Yahoo, 64% ESPN): For years the Texans have been searching for a suitable complement to Andre Johnson, and they were hopeful they were getting their man when they selected Hopkins 27th overall out of Clemson in April's NFL Draft. Things looked promising early as Hopkins drew praise in offseason workouts from Johnson and QB Matt Schaub for his polish, but an injury in Week 1 of the preseason appeared to jeopardize Hopkins' chances for an immediate impact. He quickly erased any concerns about his talent or readiness to contribute with a breakout 7-catch, 117-yard Week 2 performance against the Titans. That included a clutch game-winning TD reception in overtime when the Texans needed him the most as it followed Johnson's exit with a concussion. Hopkins now has 12 catches for 183 yards on the season and looks capable of being Schaub's primary target should Johnson need to miss time. He's more widely owned than the aforementioned Royal, but if Hopkins is available in your league he should be this week's #1 WR pickup.
Andre Ellington (Arizona Cardinals, RB – 1%): Hopkins wasn't the only Clemson rookie to have a productive Week 2, but chances are a lot more fantasy owners will overlook Ellington this waiver period. That would be easy to do as the diminutive Ellington is listed at just 5-foot-9 and 199 lbs., but trust me it would be a mistake to sleep on this 6th round pick. Ellington appears to have locked up the third down duties for Arizona and flashed his skills Sunday in catching 2 passes for 42 yards – including a 36-yard TD – and also gained 20 rushing yards on 4 carries (including a 16-yarder). Rashard Mendenhall ran the ball effectively Sunday and seems entrenched as Arizona's lead RB. But Mendenhall's checkered injury history (including preseason concerns) not to mention the fact he's far from a dynamic playmaker could open up opportunities for Ellington to see more action as he continues to learn the offense. Don't forget that as much as Carson Palmer loves to chuck the rock downfield, he also values his check downs (look at what he did a year ago for Marcel Reece). Ellington needs to be rostered as a Mendenhall handcuff in deeper leagues and is an intriguing low end flex in 12-team formats as bye weeks approach with added value in PPR scoring.
Have a question about a hot free agent not covered here? Do you think we've got a player pegged all wrong? Ask your questions or give us your feedback in the Comments section below.
You can also follow us on Twitter @RussellShaffer and @TopTeamFantasy to get the latest fantasy news and advice.
Players appearing in this column are owned in less than 50 percent of Yahoo! leagues at the time of publication.